Success in the cannabis industry is no easy feat due to evolving regulatory requirements, lack of traditional access to financing, and more. Although the industry has come a long way, there are still specific operational and HR challenges that demand additional resources, acute attention to detail, and education/awareness.
Marijuana Banking
Securing a relationship with a cannabis-friendly financial institution continues to be one of the largest challenges operators face. With the current federal Schedule I listing of cannabis, national banks are not supporting state-legal marijuana businesses.
The industry has seen a slight increase in the number of state-chartered banks and credit unions providing bank accounts, but they are few and far between. This leaves the majority of the industry to operate all-cash businesses, increasing risk and responsibility.
Due to the banking challenge and legal state of cannabis federally, some vendors choose to avoid the industry altogether, including mainstream payroll providers like ADP and Paylocity. A number of businesses in insurance, law, technology, consulting and more, have been built to provide services specific to the industry to help grow the cannabis market in a sustainable, compliant way.
Wurk is closely following progressive legislation to provide safe banking access to state-legal cannabis businesses. More information can be found here.
Fragmented HR Technology Systems
From cultivation to processing to retail, every vertical of the market has a variety of cannabis software solutions to help manage processes, data, inventory, workforce, and more.
Technology is a necessary tool to run a successful marijuana operation from seed to sale, yet we continue to see a majority of businesses using more solutions than necessary. This expensive decision creates time-consuming processes and disconnected data.
For example, many HR Managers utilize separate systems to perform payroll, timekeeping, scheduling, and applicant tracking. Managing multiple systems requires duplicate efforts, is error-prone, and makes it difficult to create accurate reports.
Integrated systems save significant time and ensure accuracy. As the industry progresses, we hope to see more all-in-one solutions to help manage many facets of the seed-to-sale process.
IRS Tax Code 280E
Created in 1982, IRS Code 280E forbids businesses from deducting otherwise ordinary business expenses from gross income associated with the "trafficking" of Schedule I or II substances, as defined by the Controlled Substances Act.
This archaic code continues to be a major financial burden for retail establishments. Operators must seek partnerships with legal and tax professionals that understand this challenge and have experience in the industry.
Fortunately, there are ways to maximize your labor deductions. With Wurk you can:
Track detailed employee tasks, time allocated to these activities, and physical location.
Enable your workforce to clock in and out through a mobile app, browser solution, or physical biometric

 

timeclock.
Report on cost allocation and work with your CPA to maximize your labor deductions.
Be prepared for future IRS audits with accurate historical records.
Wurk advises that you work with a certified cannabis tax and compliance lawyer for all 280E related claims.

Cannabis Compliance
Cannabis is the most highly regulated industry in the world, causing immense pressure for operators to follow requirements "to a T". And compliance measures are constantly evolving, forcing businesses to adjust reporting, processes, products, equipment, and more.
In addition to the regulations specific to the industry, HR leaders must adhere to a variety of cannabis compliance issues related to employees. From anti-discrimination laws to family and medical leave (FMLA), to benefits administration and safety laws, it can be difficult to stay informed.
A common challenge cannabis HR managers have faced this year is adhering to wage and hour laws, especially in the state of California. Mealtime, rest breaks, and overtime laws give specific guidance on mandatory time off throughout the workday. Understanding the different employee classifications of hourly, salary, exempt, non-exempt and contract will benefit businesses as it directly affects payroll and taxes. Developing a cannabis Employee Handbook that clearly outlines policies, allowances, conduct, safety, dress code, etc. helps to drive compliance and communicate your company culture.
Compliance will continue to be the name of the game across cannabis organizations as we plan for the future growth of the industry. To make sure you're not already behind, take a look at our cannabis compliance checklist.
Hiring & Employee Engagement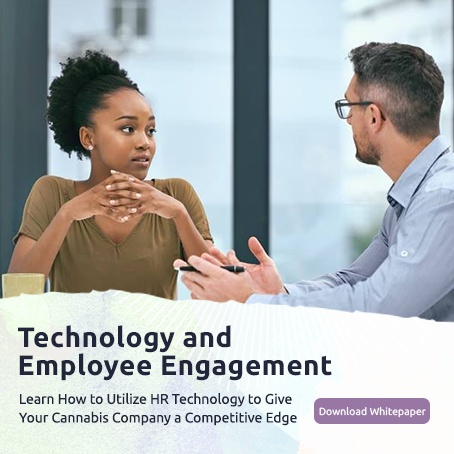 There are now more than 321,000 cannabis jobs across the United States. As the industry continues to move forward at a rapid pace, HR leaders have to keep up with the growing workforce, a significant challenge so far this year.
Cannabis is a new industry that lacks formal education, so many plant-touching businesses rely on self-trained, passionate labor. Recruiting and hiring employees with experience that match your company culture is no easy task. Engaging a mostly hourly workforce in a competitive wage environment takes extra time and attention.
As we progress, operators are putting more resources into recruiting efforts, efficient onboarding programs, and employee retention plans. Although operators can't avoid turnover, there are processes that can be implemented to help mitigate loss, such as reviewing people analytics regularly.
Ready to work with a team that understands your cannabis business HR challenges?