In the fast-paced cannabis industry, it can be easy to disregard or pause employee engagement efforts when you're in the midst of implementing updated compliance processes or opening a new dispensary. While providing a platform for performance reviews may seem like an additional burden, they are a core necessity for ensuring your people are developing in their role and delivering at expectations. This opportunity to share feedback sheds light on areas of the business that may be failing and offers early insights into turnover trends.
 More than 19% of cannabis employees leave their job in the first 3 months
According to industry data, 1 in 5 cannabis employees leaves their job in the first 3 months. Frequent turnover is a substantial cost to your cannabis operation, not to mention monumentally frustrating for your Human Resources department.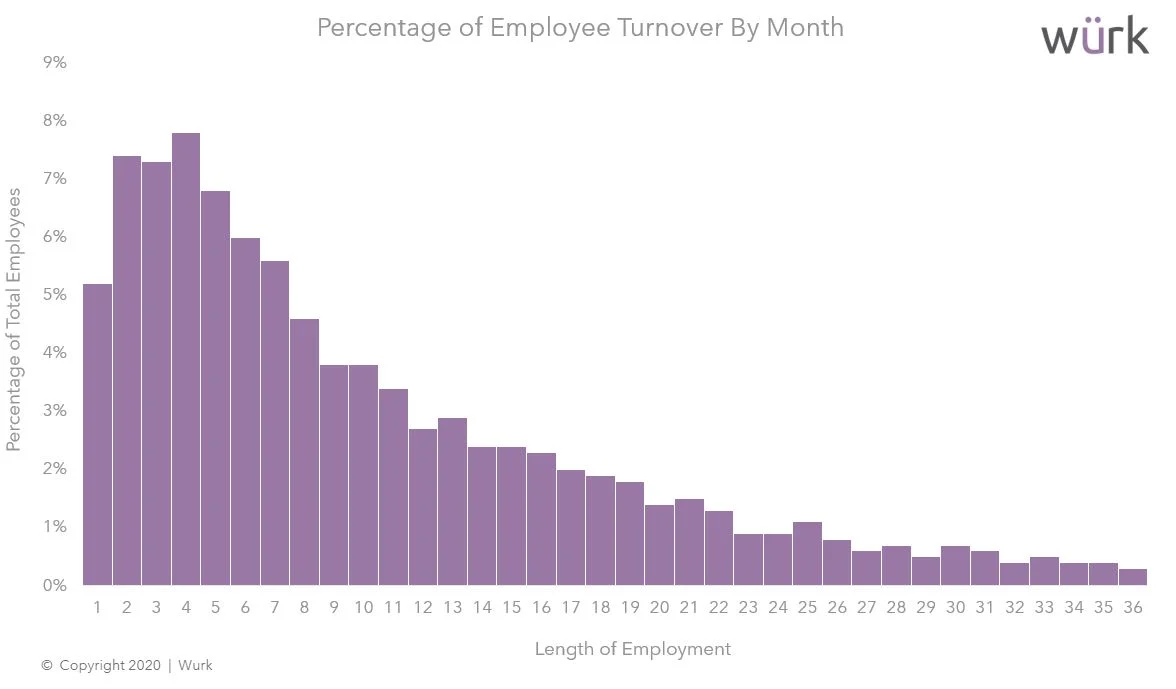 Traditional performance reviews that occur infrequently, without analytical insights or effective communication strategies, just don't fit the people of cannabis. Modern performance management techniques, that are communicated as early as the interview process, can help employees maintain engagement, feel fulfilled, and be committed to the success of the business for the long run.
Take a look at 4 tips to help establish or improve your cannabis workforce performance management process:
1. Align goals with the company's strategic mission
Prior to developing a performance management plan for every role in your cannabis business, you must create a foundation that ensures alignment and consistency across departments. Bring together a group of diverse decision-makers to formulate your company-wide vision and shared goals. Discuss your mission, why you are in business, and what success means. Define why establishing goals is important to the organization and ensure you have buy-in from leadership. Consider the opinions of your employees and whether they will understand and support the objectives.
Be sure to set stretch goals that push the team to perform above expectations but are still within reason. Be clear and concise by using metrics and timelines, such as, "increase our brand's flower sales by 3% from by the end of Q2." Identify expectations for departments that may have indirect impacts on company goals, such as finance and administration. This will create synergy between all teams that increases engagement and morale.
Some goals are meant to be iterative, so set timelines that allow for agility such as monthly or quarterly. Schedule recurring meetings weekly and monthly to review progress, challenges, and successes. Adjust goals as necessary with feedback from your cannabis employees to show responsiveness and to support their achievements.
Related: How to Create a Results-Oriented Cannabis Business
2. Start small to ensure flexibility
Whether you're implementing a new performance management process or you're just rolling out a system to track goals, consider testing these procedures out with a small group of employees first. Involve a group of 6 to 10 employees, such as your weekday, full-time cultivation team. Present the company values, departmental goals, and individual expectations, leaving room for feedback and questions. Reiterate how they will be measured, the timeline, and in what ways they will be rewarded.
During this focus group test period, document employee reactions and ability to perform. At the end of the session, schedule a meeting to understand what worked and what didn't. Beyond metrics, ask questions that evoke emotional responses, such as, "How did this goal help you to prioritize your day and address your tasks?" This group can help to shape the future of your company culture and performance management initiatives, so you can measure what really matters.
3. Make it easy and accessible
When you're ready to roll out your goals and performance management processes to your entire marijuana operation, rely on tools that are simple, automated, and analytically focused. Flexible Human Capital Management (HCM) solutions will allow dispensary managers to assess, coach, and acknowledge budtenders. With easily accessible cloud-based software, extraction facility directors can receive alerts to check in with employees and easily track progress status for more timely reviews.
Empower your managers and HR administrators to utilize software that will make the engagement, development, and succession planning lifecycle stronger and more modern than the dated practice of using pen and paper. Elevate your performance management practice by displaying leaderboards in the break room to highlight the employees with the most participation. Discover trends by relying on HCM analytics tools to quickly and easily access calculated and weighted employee performance data.
4. Implement effective communication strategies
With ongoing employee check-ins, agile goals, and effective tools, it will be natural to develop a communication feedback loop between managers and employees. Leadership should have ingrained in them the need to keep regularly scheduled meetings with team members to review goals and performance. This communication should be documented throughout the year, so compensation reviews or performance improvement plans can be easily devised. By setting expectations and offering a platform for candid communication, people will feel supported, and ideally, retention rates will increase.
Performance management is a lifecycle of initiating communications, engaging with employees, and providing ongoing feedback. This iterative process aligns with the cannabis industry as it allows for change, while continuously checking in with people to help reduce turnover in a highly competitive market.