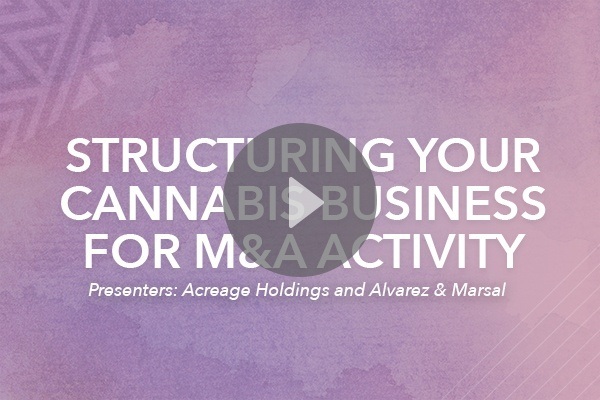 WURK CANNABIS WEBINAR SERIES

Despite emerging from an unprecedented period of market volatility and ever-shifting regulation, merger and acquisition activity in the cannabis industry still shows no signs of slowing down. Simply waiting until an M&A opportunity arises often limits planning and structuring opportunities that make a cannabis company more attractive to buyers and sellers and better situated to handle the integration requirements involved. It's important to understand key structuring and planning considerations that can lead to better M&A opportunities.
This on-demand webinar, presented by leaders from Alvarez & Marsal, Acreage Holdings, and Wurk, discusses key structuring and planning considerations, including:
Entity structuring & other considerations like planning opportunities when operations span multiple states
Pre and post M&A compensation and benefits diligence and planning considerations
HRIS and system integrations to position long-term success
Want to see more webinars in our cannabis webinar series? View all on-demand Wurk webinars >>
ABOUT THE PRESENTING COMPANIES
ACREAGE HOLDINGS
From seed to sale, we're creating industry standards that deliver the highest quality products and experiences. We expect 2020 to be a record-breaking year for Acreage. With access to unparalleled intellectual property developed in-house and from our arrangement with Canopy Growth Corporation, we look forward to extending the reach of our house of brands throughout the country. The Botanist, Live Resin Project, Natural Wonder, Prime Wellness and Tweed provide us with a diverse array of products and form factors that appeal to consumers across the cannabis spectrum, and we plan to continue developing and releasing additional products that meet their wants and needs.
ALVAREZ & MARSAL
Uncover and implement the right solution, at the right time, in the right way. A&M provides global leadership, problem solving and value creation for companies across industries and around the world. We work as advisers, interim leaders and partners who tell you what you need to know, not always what you want to hear. Complex problems, shifting demands and tumultuous business environments make today's high stakes even more dangerous. Our operational heritage helps us decipher your challenges, as our commitment to value creation identifies new opportunities. Always at the ready, we stand with you.